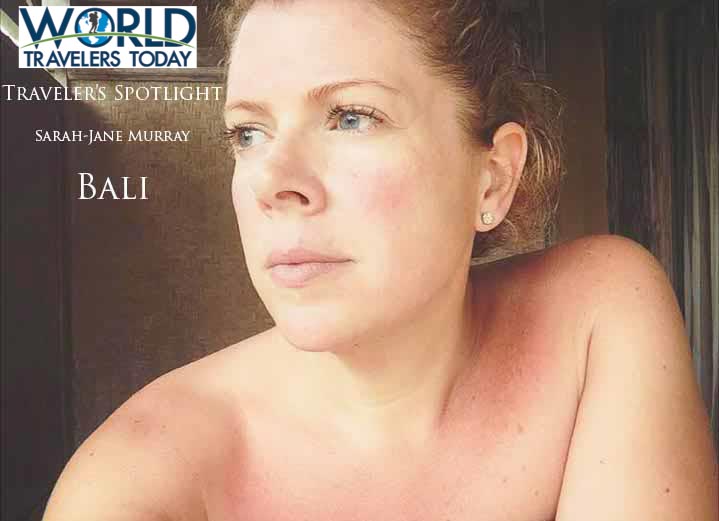 ---
Traveler's Spotlight
---
By:  Sara-Jane Murray
Bali:  A Little R&R With Some Temples
Bali has been on my travel hit list for the past couple of years so when a friend mentioned she was travelling there a few months ago and asked if would I like to join, it seemed rude to decline. Undeterred by the fact it was rainy season and jollied along by the idea of sipping ice cold cocktails by the pool I re-juggled the travel plans I already had to include a five day trip to Bali- Island of the Gods.
To be honest, I wasn't sure what my expectations of Bali were. I knew I wanted to relax, enjoy the sunshine and be a little bit of a culture vulture but without feeling exhausted by the end of the trip. I am lucky enough to have travelled in India, Thailand and New Zealand so I had no desire to ride elephants or go white water rafting. I wanted a little bit of R and R with some temples thrown in for good measure!
I was fascinated by the eclectic group of people waiting to go through customs and immigration at Denpasar Airport. Bali seems to pull people in from all walks of life. There were Australians looking for cheap beer and a good party, British families coming to celebrate weddings and get a suntan and those searching for something more spiritual. It would seem that Bali, although its tiny, has a little something for everyone.
I spent my first two nights in Seminyak which is famous for its beaches, shopping and sunsets. It benefits from being a short drive from the airport and is more peaceful than its rowdy party time neighbour Kuta. I arrived late in the evening and was slightly surprised to find that most bars and restaurants had already closed for the night. Only the more questionable establishments were still open for business…I arrived at the hotel, was adorned with jasmine garlands, given a sugary fruit nectar drink and packed off to my room for the night.
After the 19hr flight and not the best nights sleep I was more than happy to kick back and enjoy being a pool bum for 24 hrs. After zooming around Europe for 10 days I embraced my day lazing by the pool, partaking of a siesta and waking to the sound of the afternoon rain bouncing off my balcony. Happy Hour cocktails, new friends and an early night finished off a stupendous introduction to Bali
Determined not to spend the whole time lazing by a pool we organised a two day trip to the inland town of Ubud. We used the same company (Buffalo Tours) who had successfully managed to extract us from the crowds of tourists at the airport to drive us to Ubud and back.The drive from Seminyak to Ubud was a superb adventure. The roads in Bali are still extremely rural so after leaving the motorway we spent two hours winding and bouncing our way through the potholed back roads.
The scenery was spectacular, lush vegetation and rolling mountains but possibly more enjoyable were the sneak peaks into village life. The Balinese are wonderful people. Kind and utterly charming with a strong sense of family and religion. I was kept highly amused by the antics of the ridiculous number of free range chickens who seemed have a death wish and didn't mind playing in the roads. In India you could easily get stuck in traffic should a cow decide to stop in the middle of the road but chickens ?!?! We took our time driving up, pausing along the way to visit silk and printing factories, silver markets and various art studios featuring pieces from local artists.
Before arriving in Ubud our driver suggested we stop for lunch at a local place for some delicious Mie Goreng (Indonesian Fried Noodles).The dish reminded me of Pad Thai and was equally as delicious. We had noticed a distinct change in the weather and watched in amazement as the rain clouds started to gather for the afternoon downpour. Being Scottish I am more than accustomed to a bit of rain but the downpours in Bali are quite spectacular and extremely enjoyable to watch but only if you are safely inside. If caught, even with a huge umbrella and jumping to avoid puddles you can still end up extremely wet!!
Quietly nestled in terraced rice paddies Ubud is like a salve to the soul. It is very popular area for yoga and spiritual retreats but its probably better known for its arts and crafts. On your way into town you pass by the Monkey Forrest, home to some extremely cheeky long tailed macaque. We were lucky enough to spot some visitors feeding a group of macaque who were chilling by the roadside enjoying the late afternoon sun. Not only did the monkeys leave with full bellies but they also took two pairs of sunglasses and an umbrella. So be warned, if you visit take care of your belongings!
Our hotel in Ubud (Wapa di Ume) was remote but simply stunning. As there was no tv or internet access I made full use of the mammoth sized bath tub and was rewarded by a spectacular show from a posse of fireflies outside the window. It was magical !! Serenaded by the chirps, croaks and peeps of the numerous beasties who had taken up residence in the lush gardens and woken by ducks quacking out orders as they moved from one rice paddy to the next. I took my coffee out to the balcony and watched the rice planters slowly and methodically tending the rice paddies, chasing the ducks away as they went.
After breakfast,we took a taxi into town to visit Ubud Palace and spent the morning wondering around the grounds and keeping an eye out for meandering monkeys. As lunch time was looming we decided to go in search of the famous Babi Guling. Bali is famous for its Babi Guling (suckling pig served with rice, vegetables and a heavenly mix of spices) so it seemed only right to test it out. It was pork overload but worth every mouthful.The rest of the day was spent meandering down main street and the market buying jewellery and other trinkets, drinking coffee and fresh juices and enjoying the very laid back vibe of Ubud. After such a stressful day we rewarded ourselves to a traditional Balinese massage and an evening of cocktails at the hotel bar with some other travellers.
To make the most of our drive back to Seminyak we stopped by a small nature reserve that produced the famous Kopi Luwak coffee (civet coffee). While it sounds disgusting I have to say the coffee was extremely delicious and smooth but nothing will ever take the place of my beloved Italian espresso. The reserve also produced various teas and other coffees including a coffee and durian concoction which smelt as bad as it tasted, but while in Bali it seemed wrong not to try it. We left after an hour with enough boxes of tea to open our own tea shops.
On the way back our driver told us about the Balinese new year celebrations which were rapidly approaching and especially Nyepi which is their day of silence. New Years Eve, or Nyepi Eve, starts with blessings at the family temples and continues with a ritual where family members chase away evil spirits called bhuta kala from their villages. Using pots, pans, drums or any other loud instrument they make their way through the village with fiery bamboo torches chasing away evil so they can start the new year fresh and pure. Its a great party time. However on Nyepi day Bali comes to a complete standstill and calm enshrouds the whole island. No flights leave or land, cars stay parked and people stay inside with family and loved ones for a day of contemplation, meditation and relaxation. No electricity should be used and in the traditional communities there are patrols to enforce the rules. Sadly we flew out several days before the celebrations began but it would have been an amazing experience.
Our last day in Seminyak was spent back at the pool and enjoying happy hour. I took a walk through town in the early evening before sunset and again, I was amazed at the mixing pot of people who come to visit Bali. I understand why some people come to visit and never leave and while others would never visit again. It has a strange charm, a gentile manner and I am looking forward to returning in the summer.