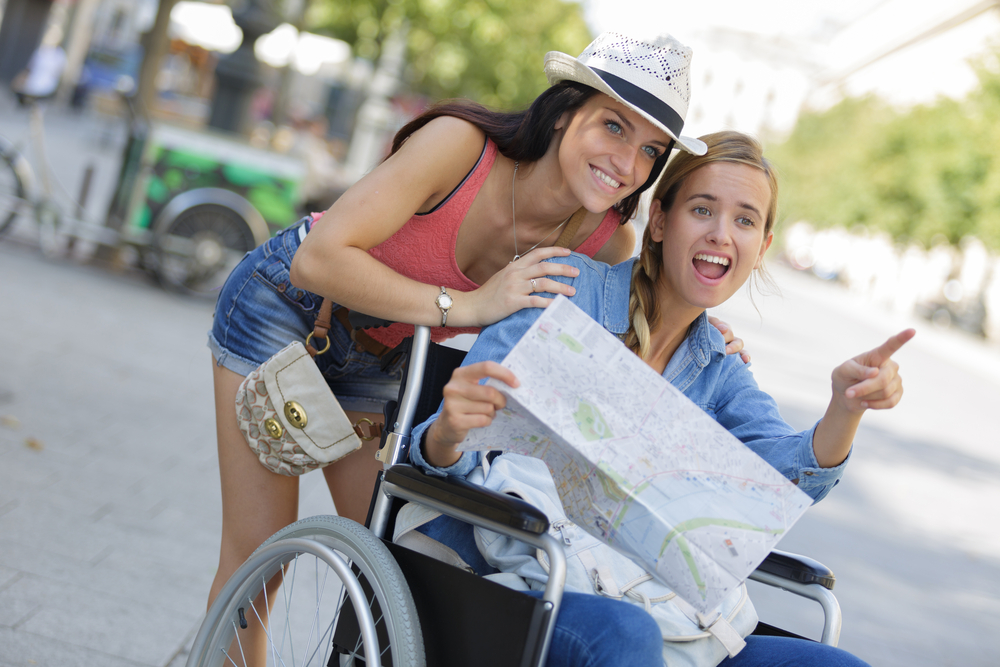 ---
Articles
---
Love It or Hate It, Tourism Is an Important Element of a Country's Economy and Culture
Travel provides significant social, economic, and cultural benefit worldwide. It ranks among the highest forms of learning and provides the opportunity to interact with people from many countries, cultures, and languages. The fondest memories we have often involve the experiences of travel. Not only does tourism play an important role in our personal development and education, but for many countries of the world it is the main source of jobs and economic development.
It is reliably estimated that over half-a-billion people travel outside of their countries of origin each year, and several hundred million travel within their countries. It is not surprising then, that tourism has become a powerful driver within regional economies, a means to potentially obtain prosperity and peace, and a transformative force that can improve millions of lives around the world.
Yet for all the benefits that tourism can provide for both travelers and host countries, unpredictable conditions can make it challenging to have safe and enjoyable vacations. To meet those challenges, you must be prepared to adjust to possible contingencies you might confront during your journey. Access to information and situational awareness are key.
Travel and Disabilities
The United Nations (UN) declared 27 September World Tourism Day in recognition of how travel allows us to come across new people, new experiences, and new ideas. Travel changes our perception of the world and our role in it.
For all the benefits of travel and tourism, not everybody has equal opportunity to do so. For many, travelling can be quite a difficult process. As noted in a recent United Nations publication:
15% of the world's population is estimated to live with some form of disability. That is 1 billion people around the world who may be unable to enjoy the privilege of knowing other cultures, experience nature at its fullest and experience the thrill of embarking on a journey to explore new sights.
Accessibility for all should be at the center of tourism policies and business strategies not only as a human right, but also as a great market opportunity.
With the world's population ageing, all of us will benefit sooner or later from universal accessibility in tourism.
Everyone has the right to access leisure and tourism services on an equal basis. Yet hundreds of million people around the world are living with disabilities. Even with modern technologies, those with visual, hearing, mobility, or cognitive impairments are unable to travel to many tourist destinations. In addition, young children, seniors, and other people with age-related conditions may need special accommodations while traveling.
Countries, regions, and cities that wish to expand their tourist appeal need to address fundamental access challenges. They also need to do a better job in providing clear and reliable information, well-organized transportation, adequate public services, and physical environments that are navigable for all.
In many parts of the world, tourism is an important component of the local economy. In some countries, tourism is a critical element of the GDP.
To prepare for the inevitable and eventual upswing in tourism, the industry needs to improve and diversify. Whether the focus is on social, cultural, or environmental aspects, tourist destinations must create a sense of pride for the people who live and work there. Local inhabitants are often the best qualified to share their area's charms and understand the meaning of quality tourism and sustainability.
In your own life, think of the lasting friendships and experiences that resulted from travel. It is essential to developing a realistic worldview and learning to understand and appreciate other people, languages, and cultures.
References:
United Nations World Tourism Day (http://wtd.unwto.org/)
World Tourism Day 2016 – Tourism for All Conference Program (http://cf.cdn.unwto.org/sites/all/files/pdf/wtd2016_programme.pdf)
Tourism for All – promoting universal accessibility: Good Practices in the Accessible Tourism Supply Chain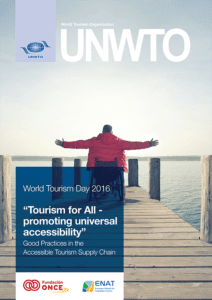 To mark the theme of the World Tourism Day 2016, the World Tourism Organization (UNWTO) released this booklet which presents six selected case studies illustrating some of the key parts of the Accessible Tourism supply chain. The examples show some of the best practices in the most relevant aspects of accessible tourism provision.
Anti-Tourist Sentiment
For many people, desire to travel has been tempered by news reports of violent incidents, natural catastrophes, and an increasing number of people expressing anti-tourism and anti-immigrant sentiments.
We have recently witnessed demonstrations against tourists in the popular destinations of Barcelona and Majorca, Spain, with banners declaring that "tourism kills neighborhoods." This new anti-tourist movement in Europe should not be ignored, particularly for those planning travel in the region.
Economically, these confrontations pit residents and neighborhoods against one another. Culturally, they point to the rise of a general sentiment against people who are different. In these cases, the political repercussions are temporal but significant.
Notwithstanding the uncertainty, the loss of income from tourism will likely lead to a change in view. The sorts of social and cultural schisms seen today have happened many times before in the past. History shows that eventually societies and cultures regain a sense of balance. Tourism and travel will ultimately survive, endure and grow.
Hazardous Contingencies
Harmful contingencies fall into two categories. The first consists of catastrophic, unforeseen, and unanticipated events. The second includes slowly developing contingencies, whose danger and ultimate impact we may fail to recognize in time to avoid harm.
Events within the first category are generally catastrophic acts of nature. We are unable to predict or control the scope and severity of these events. Such catastrophic events range from low-probability, high-consequence events such as meteorite strikes or volcanic eruptions to more common, yet serious events such as avalanches, tsunamis, and earthquakes.  The extent of personal harm you may suffer is largely dependent on your initial reaction. Unthoughtful reactions driven by fear, panic, or hysteria can turn a manageable contingency into a tragedy.
There are recorded incidents where – seemingly against all odds – people managed to survive catastrophic events such as plane crashes, stampedes, or shipwrecks. Their survival often resulted from maintaining situational awareness and taking advantage of whatever opportunity they could, however small.
---

©2018 World Travelers Today