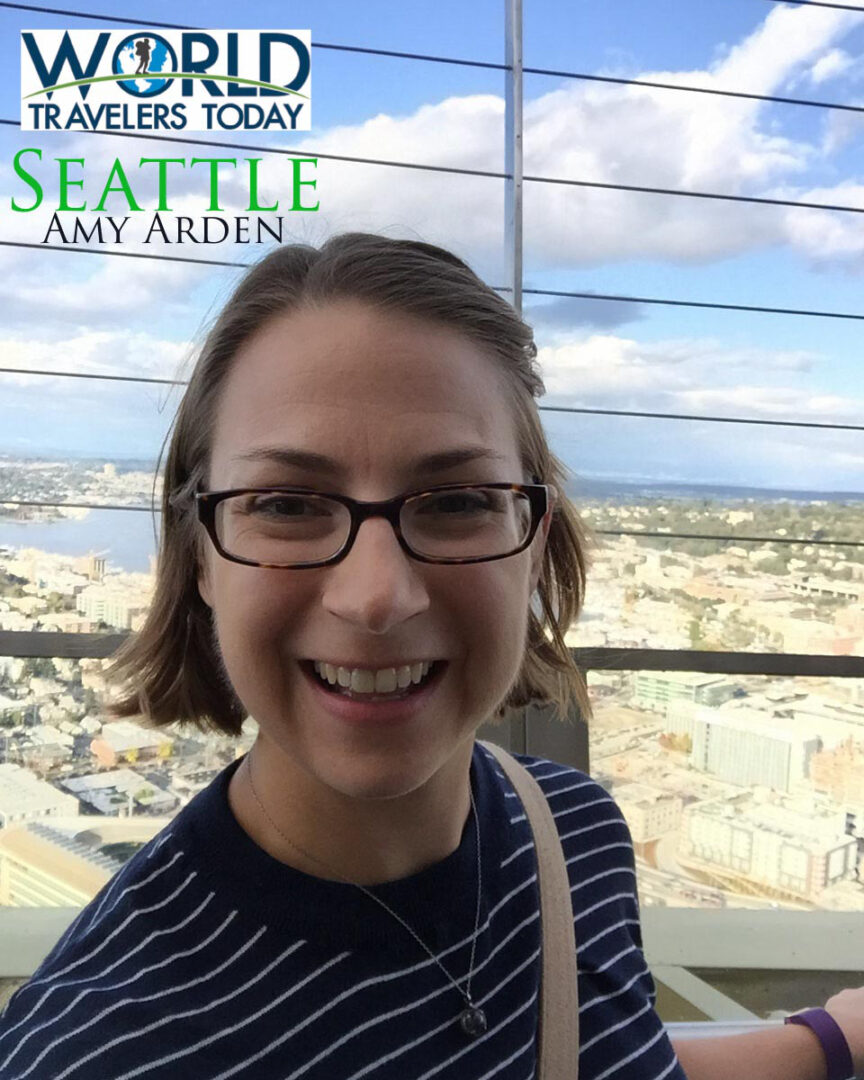 ---
Traveler's Spotlight
---
Amy Arden
There was no rain when I stepped off the plane in Seattle, WA. Aside from a brief morning shower, the skies stayed dry and sunny for the remainder of my visit. My umbrella never emerged from my luggage. That was lesson one that the city taught me: don't assume.
Having spent over a decade living and working in the Washington, DC area, tourists are as familiar as pigeons. They cluck and congregate in pu…blic places. They leave messes. They have a way of being in the way. But on my first evening in Seattle, as I gawp my way towards the Space Needle, I had a discomfiting revelation: I was the tourist. It was humbling. It was exhilarating.
With the crowds of other tourists I shoot up 520 feet to the observation deck of the Space Needle. Panoramic and breathtaking views of the city surround us. Skyscrapers and high-rise apartment buildings fade into mere gray shapes. Just beyond Seattle's waterfront passenger ferries cut their way across the shining waters of the Puget Sound. I understand, suddenly, why people came. It wasn't simply for the bragging rights or the purchase of a souvenir shotglass. It was to be in the presence of something extraordinary.
The next Seattle shrine I visit offers no scenic views and carried merchandise of a different kind. After a 30-minute uphill slog on foot, I arrive at REI's flagship store in Seattle. It seems appropriate to arrive disheveled and somewhat out of breath. Not only does the store boast an indoor climbing wall, there's also an outdoor track for testing mountain bikes, two full floors of adventure clothing and gear, and an in-store café. For those expecting outdoorsy on an epic scale, the store delivers, and lots of it.
On my final afternoon in Seattle, I board the ferry to Bainbridge Island. Home to commuters and sequoia trees, it hovers off the coast of Seattle like a tiny green jewel. The ferry ticket is easily the best $8 I spent in Seattle. The weather continues to play along, and I'm treated to blue skies and blue water as the boat makes its short crossing over the Puget Sound. Once ashore, I head directly to Classic Cycles, rent a bike, and get advice on recommended routes from the exceedingly friendly staff. This is the best $25 I spend on Bainbridge Island.
The bike route takes me northward on quiet roads lined with trees. Ferns nearly as tall as I am grow beside the roadway. As I go northward, the forest opens up and to my right, I can catch views of the water out over the Sound. Not a moment too soon Bay Hay and Feed looms over the next hill, and I stop to make a few purchases at the general store and sit in the garden next to a tiny café.
I push and pedal – the 13-mile route is hilly, and I'd been warned to expect it – feeling breathless. I rely only on the bike, and the power of my own body. My needs become extremely simple. When I reach my destination – the beach at Fay Bainbridge State Park – I sit on a stack of driftwood and stare at the water. I think only of water, and food, and a moment's rest before making the return journey. Exertion has a way of drilling off the excess, of bringing us to only the simplest elements.
When we travel, we are beginners. We are new. We gawk and take photos and ask directions because the place is new to us. Every experience in it is a new one. This is the way to the beginner's mind. I think of the famous quote by Shunryu Suzuki, "In the beginner's mind there are many possibilities, but in the expert's there are few." Travel allows us to reset, to become open again, to not know things, and to learn. This is the city's second lesson.
As I return to Seattle, the sun slips behind the mountains and the sky turns a pale gold. The ferry carries me, and I sit on the open deck, alone in the wind, already picturing the day I will come back.
Food
Simple, unpretentious food of exactly the type you want to eat after a cross-country flight. Try a burger with a pint of Maritime Pacific Old Seattle Lager. The burger will satisfy your appetite, and the beer is well-balanced and nice hoppiness – and not bitter. The Café is open 24 hours.
Tapas for adults! Finally. Tango serves a small plates that offer generous, sharable portions. The green beans and harissa arrived crisp and flavorful, the roasted rainbow carrots were sweet and smoky (thanks to a brown butter and paprika glaze) and the papas bravas proved irresistible. I rounded out my meal with the carnitas del puerco, savory shredded pork in blackened tortillas and a glass of sangria with a pleasing kick instead of cloying sweetness. Open Table Diners' Choice Winner in 2015.
Dense, almost doughy delights made fresh on the premises and served up in an array of flavors. The classic old-fashioned proved a little too tame for my taste, but the apple fritter more than made up for that. The floor-to-ceiling bookshelves give you the feeling of sitting in a library – one that serves coffee and doughnuts.
Bainbridge Island is home to several small wineries, and here visitors are offered samplings from two of them: Amelia Wynn and Fletcher Bay. Small plates far better than your usual cheese and crackers are also available for purchase. The mixed charcuterie offered tasty samplings of olives, spreads, and numerous cured meats, including a particularly flavorful wild pheasant terrine.
Tips and Tricks
Purchase tickets for the Space Needle online ahead of your visit. You'll need to choose a time slot for your visit (and print out the tickets before you arrive.)
If you can snag a reservation at the Space Needle's Sky City restaurant, you'll be able to go onto the Observation Deck without purchasing a separate ticket. Make reservations at Open Table.
Ferries run regularly between Seattle and Bainbridge Island. Get your ticket online, or simply walk up to the kiosk at the ferry terminal to purchase. http://www.wsdot.wa.gov/ferries/
---
Photos by Amy Arden.
©TORO Media, LLC